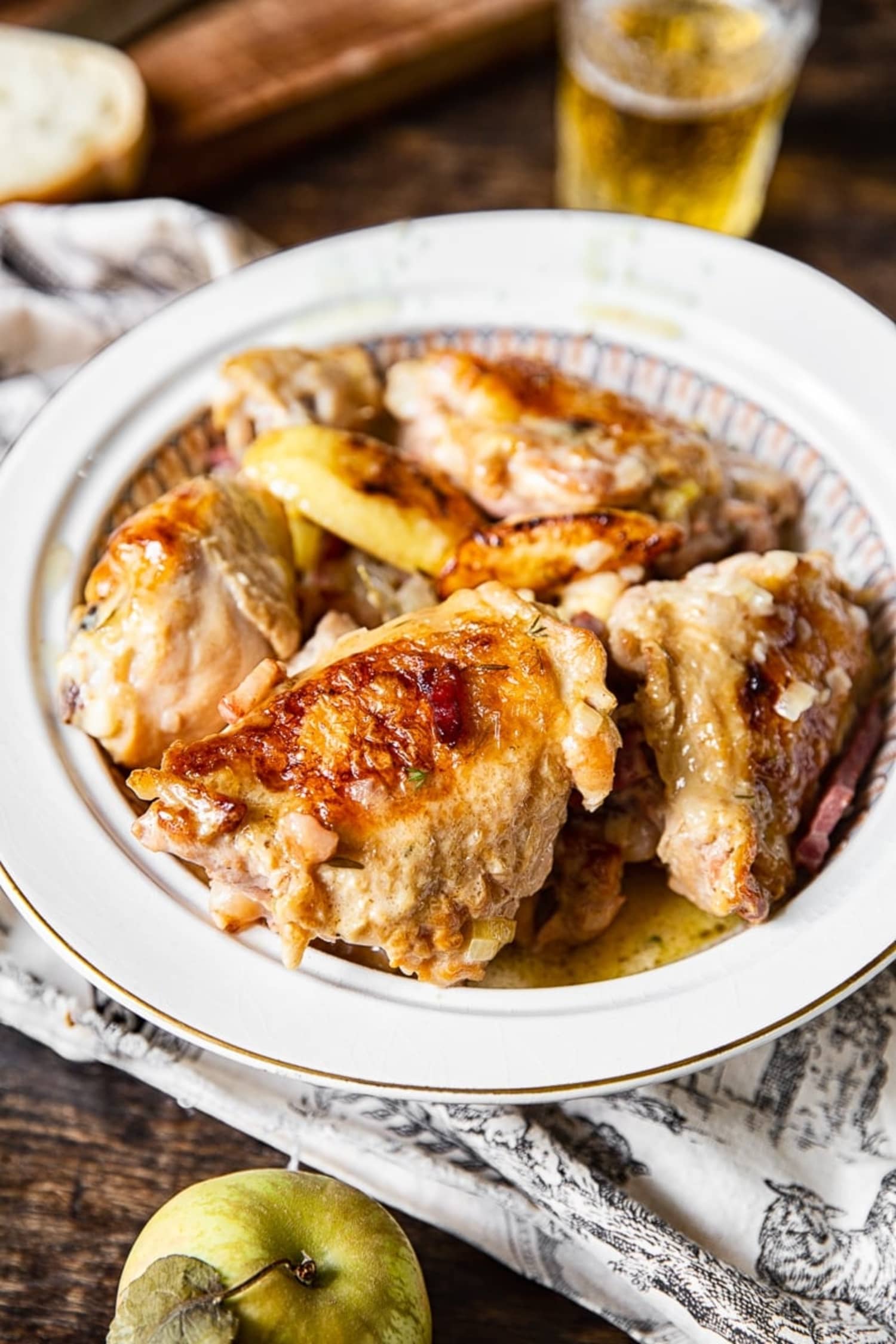 The French have a way with chicken — a certain poultry-based je ne sais quoi, if you will — that allows them to turn that often-finicky, sometimes-bland bird into a riot of textures and flavors (crispy, creamy, garlicky, mustardy, and oh-so-often with plenty of wine). The French versions of chicken dishes are usually fairly simple, not too much work, and always return the effort three-fold in flavor. These are a few of our favorites.
Bacon, apples, sautéed shallots, and a little fresh thyme bring the classic flavors of Normandy into this chicken casserole. Each of the various layers of ingredients — the browning on the chicken, the salting, and the fried apples — adds deep complexity to this dish, then it spends an hour in the oven just relaxing and coming together into an eminently comforting dish.
French onion soup is one of the most iconic dishes around, and somehow, improbably, this version — adding chicken thighs and mustard — manages to leave the best parts intact while creating a wholly different dish. It's a main, rather than a soup, filled with protein rather than bread. But the cheesy goodness and silky caramelized onions work the exact same magic as ever.
"More mustard" is all but a motto when it comes to cooking chicken in the French style, and this slow-cooker dish takes that to heart, adding both grainy and smooth Dijon mustards to the classic base of white wine, shallots, and cream. A few hours in the slow cooker and this one comes out creamy and ready for dinner.
If comfort food were designed in a lab to be the most comforting, it would come out like chicken cordon bleu: breading on the outside, creamy sauce over top, and cheesy ham inside. This Canadian bacon-ified version takes it up a level, adding a little extra flavor while otherwise sticking closely to the classic recipe — and gently guides newcomers through the somewhat complex steps to creating it.
Wine is chicken's culinary best friend. The French are well aware (you'll see it multiple times on this page), and incorporate it nicely into recipes like this one. On top of that, few chicken recipes come together in less than an hour, but this one takes just 10 minutes of prep time and will cook for the rest of that hour — and when you're done, you'll have crispy chicken, and that's what's important. 
Silky sauces and perfectly cooked chicken complement each other's textures in a way that makes for a stellar dish. This version takes that pairing up a notch with mushrooms and a Champagne-laden sauce. The milk provides the creaminess, the Champagne the flavor, and the chicken and mushrooms make this a lovely, hearty dish.
Roasted chicken is good, but roasting the thighs alone gives you all the best parts without having to share or settle for breast meat. This super-simple recipe doesn't call for too many ingredients — most of the flavor comes from the garlic, along with a bit of butter, doesn't take too long, and comes out with the kind of crispy skin that chicken thighs were born to bear proudly.
While the previous recipe highlights how well the skin of a chicken thigh crisps up, this one takes the same garlicky goodness, adds some lemon, and shows how great the thigh — minus the skin and bone — can hold moisture through a high-heat trip to the grill. Though you will have to marinade it for a bit beforehand, the actual cooking is super-quick, thanks to using the skinless and boneless meat.
Another classic from the annals of French chicken dishes, but this time turned into an easy slow cooker, set-it-and-forget-it recipe. You'll have to cook the bacon and a few other ingredients to get started, but in just a few minutes you'll be able to toss all the ingredients for this dark and delicious classic into the pot and leave it to cook while you go about your day.
Of course, nothing is better than a simple roast chicken, and everybody has their own favorite. So why not look to one of our kitchen queens for her standard version? The secret to this one is a slice of stale bread and an herby compound butter (and a little sherry if you like). Buttering the chicken can be a little tricky, but the end result is worth the greased bird wrestling.